About Us
On 31st January 1950, Bradford model shop owner Hubert Foster sold his retail model shop to John Ayrey and his father. The stock was valued at £1,543 6s 6d and the inventory purchased included Hornby 'O' Gauge tinplate, Hornby Dublo, Trix Twin, Meccano, Dinky Toys and Lone Star. The business became the 'Bradford Model Railway Centre' and shops were subsequently opened in Huddersfield, Leeds and Manchester. They also became an importer of several ranges and this developed into a separate wholesale business - 'Anglo Continental Models' of Bingley.
Norman Hinchliffe, one of the current owners of Frizinghall Models & Railways, in the mid 1960's started working part time for John in his Huddersfield shop. On odd occasions he would travel to Bradford to help out at the Frizinghall shop and here is where he met Andrew Feather, who is also now a part owner of FMR.
John Ayrey's father died in 1976 and so the Frizinghall shop was sold to a long standing customer Arthur 'Tug' Wilson, an ex-police sergeant with a keen interest in model railways. To avoid conflict with John Ayrey's other three 'Bradford Model Railway Centre' shops, the business name was changed to 'Frizinghall Models & Railways'
Arthur ran the shop in the Frizinghall area of Bradford, and was joined by his son Stephen in 1981. Following Arthur's death in 2006 Stephen took over the business completely, with help from his wife Elaine and their daughters. In 2006 there was a move of premises from the original shop to a small industrial unit on Hillam Road, Bradford.
Ten years on and by early 2016 Stephen and his family decided it was time to retire from the retail trade, and the business was offered for sale as a going concern – initially without success!
The sale of the FMR business to the owners of John Ayrey Die-Casts was agreed towards the end of 2016 but was not completed until April 2017 after the necessary building alterations had been carried out at the new joint premises in Baildon.
All the staff of FMR transferred to the new premises and continue to be helpfully and give knowledgeable serve our growing customer base.
The shop is located on the first floor of the John Ayrey Die-Casts building, served by both stairs and a lift. It is open to the public six days a week Monday to Saturday
10.00 to 16.30.
In the shop you can browse a huge range of model railway items, plastic kits, tools, paint, etc. from all the main manufacturers and many not so well known. Help and advice is always available from the staff and a wide range of pre-owned items are always in stock.


Finding Us


From Shipley:
If you are travelling from the Shipley area, head towards Guiseley along Otley road until you reach "the Halfway House pub"( on your right), continue on another 400 yards to the traffic lights.
Turn right at the traffic lights into Sapper Jordan Rossi Buisness Park and we are on the left hand corner of the estate.

From Guiseley: If you are travelling from the Guiseley Area, follow the road down Hollins Hill, you will reach a fuel station at the bottom (on your Left) continue past until you reach the first set of traffic lights AFTER the fuel station.
At this traffic lights turn left into Sapper Jordan Rossi Business Park and we are on the left hand corner of the estate.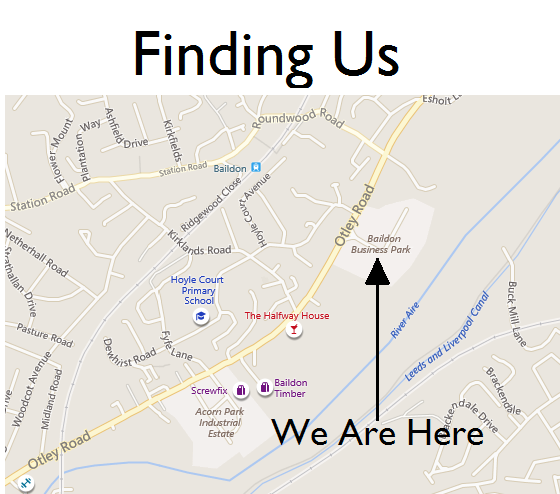 Our Postcode is not recognised by some satnav systems. Please use BD17 7PY which gets you to the Halfway House pub nearby (see from Shipley for more details).